For the last few years I've been making soaps and bath and body stuff. It's been one hell of a learning curve. I've discovered I quite like learning chemistry, (I hated it in school and dropped it when I took my options) I love looking at packaging magazines, (I'm half expecting to see one of the magazines featured on Have I Got News For You!) and I hate the EU Cosmetic Regulations!
To be fair though, the regulations are in place to protect the consumer, but trying to wade through them in order to be able to sell any of my soaps and stuff is a nightmare. As it stands, I only have one soap recipe safety assessed and none of my other things, so most of what I make I can't sell.
What most people don't realise is that any soaps/bath body items that are sold have to have a safety assessment, (and that's just the start, then there's the weights and measures, labelling and allergen info regulations) so a lot of people who discover that they like making soaps and bath bombs plunge right in and sell their items illegally. This annoys me because if you're going to make something that people are going to put on their skin, you want to make sure it's safe for them to do so. This is especially important if you're making soap from oils and lye, rather than melt and pour glycerine soap, because it's easy to make a caustic soap if you don't use the correct amount of lye.
I was once horrified to read a post on a forum where the poster had substituted an oil in the recipe she was following without recalculating the amount of lye needed (she didn't realise that different oils need different amounts).
So, if you're buying a handmade soap, check out the label. It should have the correct terms for the oils, such as sodium palmate (not listed as *palm oil*) sodium tallowate (not listed as *tallow*) other items (such as herbs or other botanicals) should be listed in latin. It should also list any of the allergens such as linalool, citral, coumarin etc. Fragrance should be listed as *parfum*, the weight of the soap should be on there, as well as a contact address (a post code with house number and street is ok) and a batch number.
Now I'll get off my soapbox (pun not really intended!) and show you some of the soaps I've made over the years.
Lavender Glycerine Soap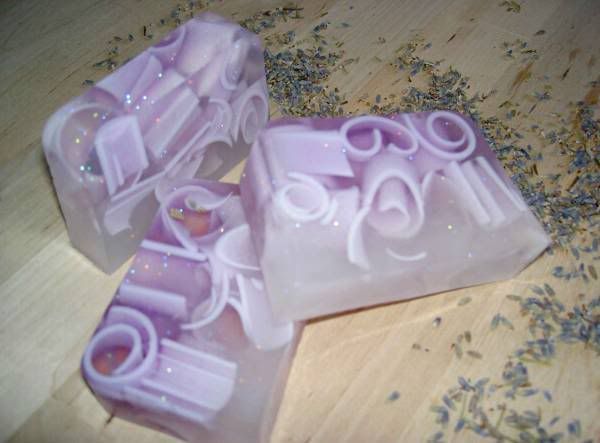 Chocolate Turkish Delight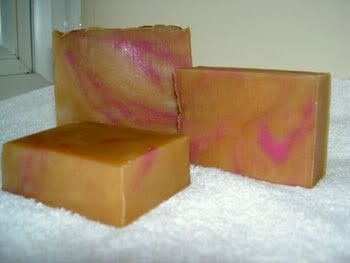 Indian Spice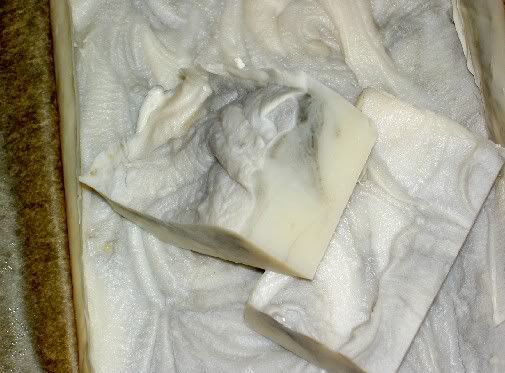 Violet
Marshmallow Bath Melt